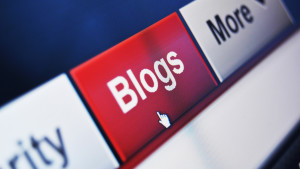 Many times I recommend to clients that adding a blog to their site is a great way to establish them as the expert in their area and to help elevate their business and website over some of their competition.  While it may seem like everybody and their brother are writing a blog, there are actually many opportunities still available for local companies to get ahead in their area by creating some great content for their site, and not to mention Google loves all that new content as well.
Adding a blog to a site is relatively easy.  It is the writing the posts that becomes the difficult task for many.  The day to day grind of running their business gets in the way of adding new posts, and soon there are weeks and even months that go by with no content, and the blog is a ghost town.
Don't let that happen to you.  Here are a few ideas to kick start your writing and keep you going , keeping the momentum going.
1. Blog about what you talk to clients about every day
As small business owners we all have those questions that we are asked all the time. Regardless of it is a new prospect, or a long time client, many of these questions are the same ones over and over.  Sure you may have a short FAQ on your website, but why not take a few minutes and take each question and create a post.  Doing this will allow you to fully explain your answer, it will give you a link opportunity to a page inside of your website, and it will give you that ability to answer those questions with a reference to your blog. Be creative – add pictures or videos or anything that will help.
Say you receive an e-mail from a client asking you a questions that you addressed in a blog post.  Just shoot them back a reply that points them to the blog post, and not only answer their question, but perhaps expose them to your blog and get a new reader, and maybe even some links from them to boot!
2. Blog about new services or products that you are offering.
Too many clients will add a new product or service and make sure that I have added a page on the web site or added the product to their shopping cart, but miss out on the opportunity to blog about it also.
If you have not launched that new product yet – give people a sneak peak and what is coming.  If you have already launched the service or product, write about it and let me know how it is helping clients. Remember that if  you can show readers how you can solve their problems, you just may get a new client.
3. Use articles or updates from manufacturers or professional associations
Most business owners receive email, catalogs, magazines, newsletters from industry organizations or manufactures of their products all the time.  While much is quickly 86'ed there are probably a few things that you take the time to read and even learn a few things from.  Why not use that info to create a post to share some knowledge?
Since your audience are probably not insiders, you need to be careful that you do not use jargon or insiders terminology that will confuse readers.  Keep it simple but informative.
Also do not be afraid to share your opinions.  Perhaps you are reading about a change that a manufacturer is making to a product, let you clients know why you like it or don't like it.  You are the expert and they are going to look to you for answers if a product or service is going to meet their needs.  If you don't agree with the change or foresee issues – make sure that you tell them about an alternative that you offer that will meet their needs.
4. Pat yourself on the back
Have you achieved a milestone, been rewarded with an achievement, sold x number of a product, or helped a new client with a special problem they have?  Tell the world about it.  many small businesses never use press releases (but they should!) so their blog could be the next best thing.
You may find it difficult to brag a little about your accomplishments (me included in that group) but if you don't tell someone, no one will ever know.  And you can bet that if your competitors had accomplished what you have, they would be telling everyone and their brother.  There are times that we need to pat ourselves on the back.  Besides it just adds to your reputation for being the expert in your industry.
But it is important to keep your content balanced.  You don't want to have blog that is 80% pat on the back and 20% information – savvy readers will pick up on this real quick and stop reading.  Keep your accomplishment posts balanced with helpful info and news.
5. Ask Your Readers
Many writers will end a blog post by posing a question to the readers – what do they think, how has this or that effected them, what results have they seen, etc.  There are any number of ways you can ask the question, but the magic is in the responses.
Now understand that if you have a new blog, you may not have many readers, but that is OK, ask the questions anyway. If you get in the habit when you are first starting out, it will stay with you and as your audience grows your replies will grow as well.
It is when your readers answer that you will see new blog opportunities.  Take advantage of that and build on it by answering their question or comment in a new post. Soon you will have more ideas that you will know what to do with.
Don't Give Up – Keep Going!
Blogging to improve your small business is a long haul project.  It is something that takes time to build momentum but the benefits can be tremendous.  The important thing to remember is that it is a long term project, and to not give up.  Just because you added a new post and only had 3 people read it does not mean your blog is not working.  Many times when I am researching, I find good posts that are weeks, months, sometimes years old.  We never know when we are going to find a new reader.
And remember every new reader is a prospect.  Keep them coming back and you can turn them into a client!
Do you have other blog ideas or inspirations?  We would love to hear them, share them in the comments below.
 Photo Credit: Damián Navas via Compfight